The Papio-Missouri River Natural Resources District includes all of Dakota, Douglas, Sarpy, and Washington Counties, and over half of Burt County and Thurston County. Throughout this 6-county area, Papio NRD crews inspect and maintain over 80 miles of flood control improvement projects.

Papillion Creek Watershed
The Papio-Missouri River Natural Resources District manages the most highly populated and flood-prone watershed in the state, the Papillion Creek Watershed. The Papio NRD includes all of Dakota, Douglas, Sarpy, and Washington Counties, as well as over half of Burt and Thurston Counties. Throughout this six-county area, Papio NRD crews inspect and maintain over 80 miles of flood control mitigation projects.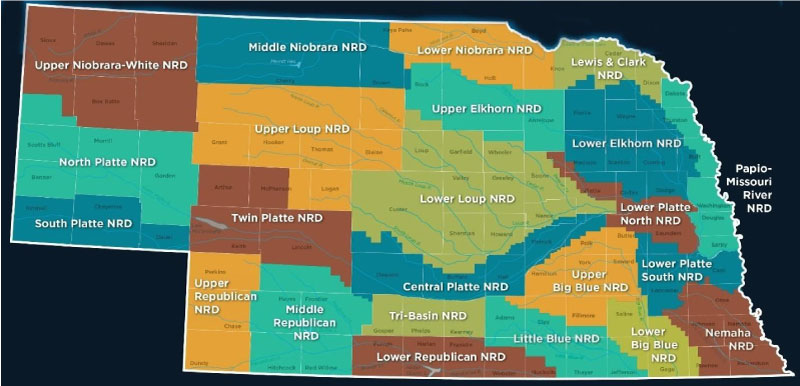 Evolution of NRD Concept
The Papio NRD is one of 23 Natural Resources Districts (NRDs) in Nebraska, which are unique to the state. No other state has a system for managing its natural resources like Nebraska's NRDs.
Dating back to 1895, the concept of the NRD began with the creation of the first irrigation district in Nebraska. 
Early on, Nebraska's conservation efforts were progressive. The state saw many iterations of the natural resources district concept before the Nebraska Legislature created NRDs in 1969. 
By the late 1960s, a total of 500 resource-related special purpose districts existed across the state.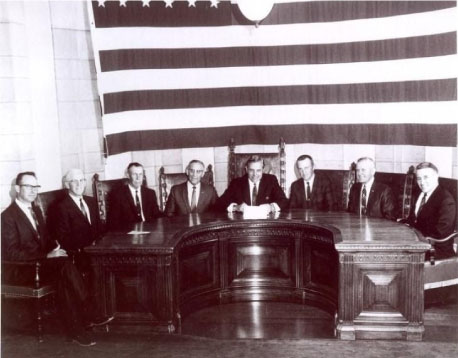 By 1972, the legislature combined special purpose entities, including county soil and water conservation districts, drainage districts and watershed boards into 24 NRDs that began serving the people of the state in 1972. 
In 1989, the total number of Nebraska NRDs decreased to 23 following a merger of the Papio NRD and the Middle Missouri Tributaries NRD.
For nearly a century, Nebraska citizens played a vital role in creating what would become the success of today's natural resources district system: multi-county governments organized along major watersheds that work to protect and enhance our natural resources.
BENEFITS OF FLOOD Mitigation PROJECTS
What do flood mitigation projects and recreational opportunities have to do with each other? A lot. Most Omaha metro area citizens who are running on a trail or kayaking an area lake don't know they are utilizing the additional perks of a flood control reservoir.
Flood Protection and recreation
Flanagan Lake, located near 168th and Fort Streets, is the 11th and latest single flood control structure undertaken by the Papio NRD. While the reservoir's primary purpose is to protect Omaha citizens and property from floods, it also provides 730 acres of RECREATIONAL BENEFITS!
This includes a lake, 5-mile hiking/biking trail, and playground park, and plenty of green space to relax or play on! Once the Papio NRD completed construction of the reservoir in 2018, the City of Omaha overtook management of the park.
While the recreational benefits are much more apparent to citizens, protecting Omaha from floods is Flanagan Lake's number one job. This is also the case for other flood control reservoirs around the Omaha metro, such as Zorinsky Lake, Wehrspann Lake & Chalco Hills Recreation Area, Walnut Creek Lake, Standing Bear Lake, and Cunningham Lake. So, as you run the trail or kayak the lake, you can do so knowing the dam is working to protect our community from flooding.
The recreational amenities that accompany these types of public safety infrastructure projects are made possible through partnerships.
Flanagan Lake Ribbon Cutting Ceremony